第19回LaMer特別講演会「医学分野で重要な昆虫(ゴキブリ、肝吸虫、蚊)の生物学的防除に関するセミナー」が2月19日(月)に開催されました。
日時: 2018年2月19日(月) 13:30~15:30
場所: 愛媛大学城北キャンパス レクチャーホールC EL16
内容: 医学分野で重要な昆虫(ゴキブリ、肝吸虫、蚊)の生物学的防除に関するセミナー
題目1:"URBAN WARFARE": A GLIMPSE INTO THE POTENTIAL OF NATURAL ENEMIES FOR
     BIOLOGICAL CONTROL OF THE AMERICAN COCKROACH, Periplaneta americana
    (LINNAEUS)
演 者: Dr. Billy Joel M. Almarinez
     (Postdoctoral Research Associate, De La Salle University, Philippines)
題目2: BIOACCUMULATION OF CADMIUM (Cd), COPPER (Cu), LEAD (Pb), AND ZINC (Zn)
     IN WATER BUFFALOES (Bubalus bubalis) INFECTED WITH LIVER FLUKES
     (Fasciola gigantica) 
演 者: Dr. Mary Jane C. Flores
    (Associate Professor, De La Salle University, Philippines)
題目3: EVALUATION OF OVIPOSITION ATTRACTANT FOR ENTOMOLOGIC SURVEILLANCE OF
Aedes aegypti
演 者: Dr. Divina M. Amalin
(Professor, De La Salle University, Philippines)
要約:"URBAN WARFARE": A GLIMPSE INTO THE POTENTIAL OF NATURAL ENEMIES FOR BIOLOGICAL CONTROL OF THE AMERICAN COCKROACH, Periplaneta americana (LINNAEUS)
BILLY JOEL M. ALMARINEZ
Postdoctoral Research Associate
Biological Control Research Unit (BCRU), Center for Natural Sciences and Environmental Research, De La Salle University, Taft Ave., Manila
The American cockroach, Periplaneta americana (Linnaeus), is a cosmopolitan insect that is generally considered as a pest wherever interaction with humans occurs. Managing this pest in the urban setting usually includes manual killing by swatting, chemical control by the use of insecticidal sprays and baits, and sanitation. Biological control is rarely resorted to, especially in households. While non-biological methods are effective in controlling adults and nymphs, oothecae that can contain up to 20 eggs may remain unaffected. Among the natural enemies of P. americana are parasitic wasps, two of which have been well known to parasitize oothecae: the ensign wasp, Evania appendigaster (Linnaeus), and the eulophid Aprostocetus hagenowii (Ratzeburg). The present study focuses on these two oothecal parasitoids, whose potential for biological control of P. americana in the Philippines has yet to be assessed. Controlled rearing of and breeding experiments on wild-captured and laboratory-reared adult E. appendigaster and emergent A. hagenowii from wild-collected and laboratory-kept parasitized oothecae have been conducted, with observations particularly on parasitic behavior, the number of offspring produced in a parasitoid-exposed ootheca and the developmental duration from oviposition to emergence. E. appendigaster is solitary, with a single wasp emerging from one parasitized ootheca after an average of 48 days. On the other hand, A. hagenowii is gregarious and exhibits superparasitism, with 25 to 151 wasps emerging from a single ootheca after 37.17 ± 3.87 days post-oviposition. Both species can be reared in the laboratory at a temperature range of 25 to 28 °C, relative humidity of 60 to 80%, and 12-12 photoperiod. These preliminary findings suggest not only the potential of these two endoparasitoids for biological control of P. americana, but also their mass-rearability in a controlled environment.
BIOACCUMULATION OF CADMIUM (Cd), COPPER (Cu), LEAD (Pb), AND ZINC (Zn) IN WATER BUFFALOES (Bubalus bubalis) INFECTED WITH LIVER FLUKES (Fasciola gigantica)
MARY JANE C. FLORES
Associate Professor, Chairperson, Biology Department, De La Salle University – Manila
Exposure of living organisms to heavy metals can lead to bioaccumulation and can have some detrimental health effects. This study identified the species of liver flukes present in the liver tissues of water buffaloes, determined the concentration and bioconcentration factor of cadmium, copper, lead, and zinc present in both the liver tissues and liver flukes using atomic absorption spectrophotometry. Of the 1,329 liver flukes extracted from the 14 livers, Fasciola gigantica (F. gigantica) was the only species present in the collected liver tissues. The median heavy metal concentrations (µg/g) in the liver tissues were 0.93, 9.13, 4.75, and 48.95 for cadmium, copper, lead, and zinc, respectively. F. gigantica had median heavy metal concentrations (µg/g) of 3.32, 72.26, 20.82, and 159.37 for cadmium, copper, lead, and zinc, respectively. Both the liver tissues and F. gigantica were identified to contain varying concentrations of these heavy metals (p<0.05). The presence of these heavy metals in both the liver tissues and F. gigantica suggests heavy metal contamination of the areas where the carabaos graze. The bioconcentration factors for cadmium, copper, lead, and zinc were greater than 1.0 indicating that liver flukes are good bioaccumulators and bioindicators of environmental pollution. KEYWORDS: Fasciola gigantica, Atomic absorption spectrophotometry, Heavy metals, Bioaccumulation, Bioindicator, Bioconcentration factor EVALUATION OF OVIPOSITION ATTRACTANT FOR ENTOMOLOGIC SURVEILLANCE OF Aedes aegypti Divina M. Amalin1,2, Daniel Stanley Tan1,3, Robert Leong1,4, Clement Ong3, and Christine Octavo4 1 Biological Control Research Unit (BCRU), Center for Natural Sciences and Environmental Research, De La Salle University, Taft Ave., Manila 2 Biology Department, College of Science, De La Salle University, Taft. Ave., Manila 3 Software Technology Department, College of Computer Science, De La Salle University, Taft Ave., Manila 4 Mathematics Department, College of Science, De La Salle University, Taft Ave., Manila A cost-effective tool that is able to automatically collect, identify, and count adult mosquitoes is needed as a component of the disease surveillance system. The automation feature of the tool should allow data collection with minimal human intervention and is suitable even at remote areas where resources are limited. It should also provide a solution for generating reliable entomological indices which in turn, strengthens the disease surveillance system. One of the components of the tool is an efficient mosquito attractant and a very good candidate is oviposition attractant. The objective of the study being presented is to identify the best oviposition attractant of Aedes aegypti for inclusion to the ARTiST: Automatic Real-Time Surveillance and Trapping of Adult Mosquitoes for Entomologic Surveillance. Three oviposition attractants: such as Bamboo Infusion (BI), OL trap, and CO2 were included in the evaluation with the inclusion control check using water only. Results showed that the most number of eggs lay were in filter paper with the BI solution, followed by the OL solution while filter paper with CO2 solution and the control check had significantly low number of eggs laid. The findings suggest that BI solution is an efficient oviposition substrate for A. aegypti and therefore should be evaluated as a component of the automated mosquito trap. It is also worth investigating the chemical composition to identify the kairomone in the bamboo infusion that makes it effective attractive oviposition substrate of A. aegypti for potential development of kairomone impregnated lure for inclusion in the automated mosquito trap.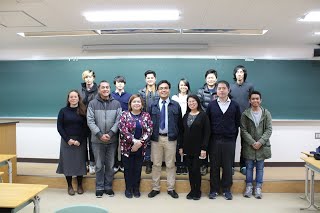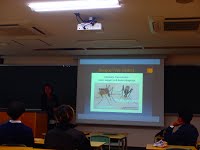 多数のご参加ありがとうございました。